Mobile Messaging Compliance Resource Kit
Compliance for WhatsApp, Zoom Phone, RingCentral and more

The corporate use of mobile phone applications has proliferated, creating blindspots across communication channels that are left unmonitored and unpreserved. Over the next year, $100 Billion (USD) in regulatory fines are expected for unsanctioned communications channel usage[1]. Yes, you read that right…billions.
Theta Lake Mobile Messaging enables organizations to capture SMS content and archive it for regulatory compliance. Mobile Messaging supports the widest array of popular mobile messaging applications, unifying SMS usage under a single umbrella- providing control and visibility into usage and user behavior.

Ready to improve your compliance strategy for mobile messaging? Access your free resources today:
White Paper: Best Practices for Messaging, SMS, and Chat Recordkeeping and Supervision
UC Today Article: Why Banks' IT Managers will be Heroes for Stopping $200M in Compliance Fines
Corporate Compliance Insights Article: Theta Lake & Movius Integration for Regulated Firms
Video: Theta Lake & Movius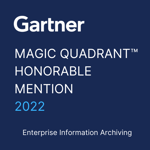 Download Free Resource Kit Today