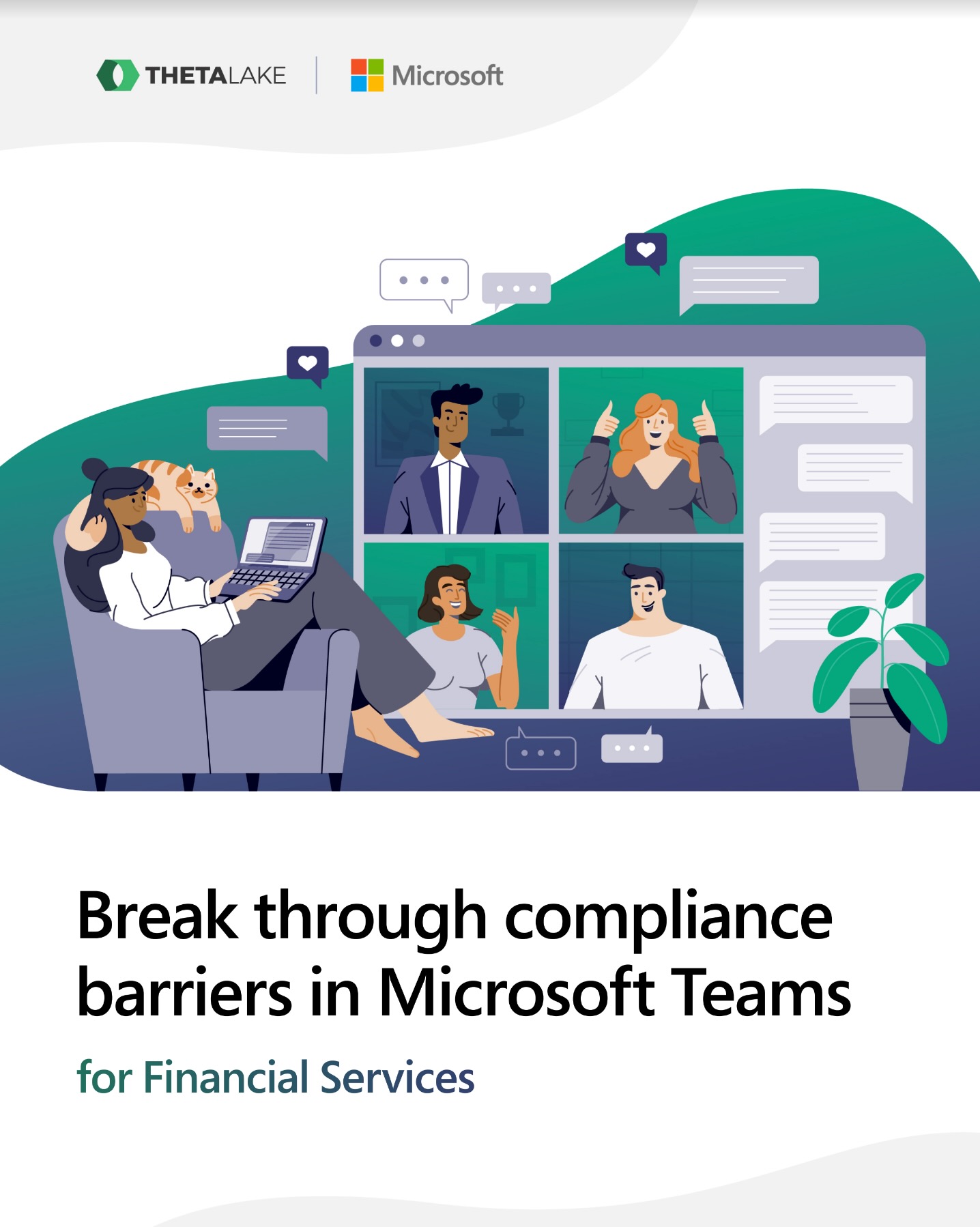 White Paper
Break through compliance barriers in Microsoft Teams
For Financial Services
Microsoft Teams is one of the top modern collaboration platforms for ​​virtual meetings, chat, file sharing, and more. However, in financial services, taking full advantage of all these features requires a new modern approach to compliance that moves beyond legacy archiving. Strict requirements around the supervision and archiving of digital communications extend beyond files and email to include video, voice calling, chat, and more—all the tools that empower today's digital workforce.
In this white paper, Microsoft and Theta Lake have come together to share the key compliance components you should be considering as you expand your use of Microsoft Teams. In addition to ensuring you're addressing key risk factors, you'll also learn about Theta Lake - the only compliance solution fully integrated with Teams' providing full analysis and supervision for video, voice, and chat meeting content that maximizes IT and compliance productivity.
The white paper details:
Financial industry compliance standards that must be addressed - including FINRA, SEC, ESMA, FCA and more
The costs of non-compliance
Problems with legacy archiving and compliance solutions
How to unlock the potential of Microsoft Teams with Theta Lake's modern compliance solution
Learn more about the Theta Lake Integration with Microsoft Teams
Compliance for collaborative chat communications, made easy
Archiving, Retention & eDiscovery



Organizations can securely capture, retain, retrieve, and review fully threaded messages—both from 1:1 and group channels, as well as any files shared through Microsoft Teams.
Automated Risk Detection & Review
Theta Lake automatically detects confidential data, risky behavior, and compliance risks, pointing reviewers to an exact piece of content that requires investigation.
Data Loss Protection
Theta Lake surfaces data leakage detections in an AI-assisted workflow to enable teams to be more efficient effective in their review and mitigation of risky content.