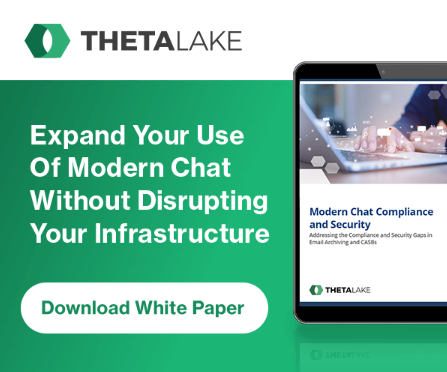 White Paper
Modern Chat Compliance and Security
Learn How to Address the Compliance and Security Gaps in Email Archives without disruption
Modern collaboration chat platforms - including Microsoft Teams, RingCentral, Slack, Webex Teams, Zoom Chat and others - offer powerful features for enhancing productivity. But these media-rich conversations present complex risk ,compliance and technical challenges that legacy email archives cannot handle in-depth.
If you're concerned about your compliance readiness for collaboration chat platforms then this white paper can help. You'll learn how to identify and close any compliance gaps in your current infrastructure so you can expand their use with confidence.
It includes:
Unique Challenges: Persistent, Ongoing, and Exposed

Eight Gaps Legacy Approaches Cannot Solve

Addressing Compliance and Security Gaps

Key Capabilities and Benefits of Modern Chat Compliance and Security
Learn more about Theta Lake's Intelligent Archive Connector For Chat
Theta Lake can help you quickly and cost effectively add full capture of chat content for Zoom, Webex, Slack, RingCentral, Microsoft Teams and more to your existing email archive.
We capture all channels, from group to private messages, in-meeting chat, plus all content, from emojis and GIFs to file attachments and much more.
Supports third party archives (such as Veritas, Mimecast, Global Relay, AWS, Azure, and more) to extend the value of your existing investment without disruption.
All content is displayed in native format ensuring the full context is retained of where content was shared, which messages were edited or deleted, or elicited a reaction.