Your Archive. Your Choice.
Get the Most from Your Meeting Technology While Staying Compliant

The balance between staying compliant and giving users what they want can be tricky. Most financial services and other highly regulated firms are required to retain and supervise electronic communications (eComms), such as in-meeting private and group chat, polling and whiteboarding. However, many do not want to capture video or audio content where there is no regulatory or business need to do so. In fact, 83% of financial services firms roll out tools like Zoom, WebEx and Microsoft Teams to employees with capabilities disabled. This results in dissatisfied users, less productivity and lower ROI.
Theta Lake offers game-changing flexibility and Selective Archiving for any content types or modes within modern collaboration platforms, with the future-ready option to capture video or audio content when the time comes.


Learn more about how you can get the most from your collaboration platforms while staying compliant.
Download the free resource kit today and access:
White Paper: Archiving Electronic Communications in Zoom, Webex and Microsoft Teams Meetings
White Paper: Break Through Compliance Barriers for Microsoft Teams
Video: Theta Lake for Zoom EComms Selective Archive
Video: Theta Lake for Webex EComms Selective Archive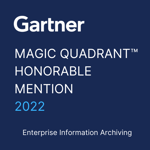 Download Free Resource Kit Today